Our Business
Business Overview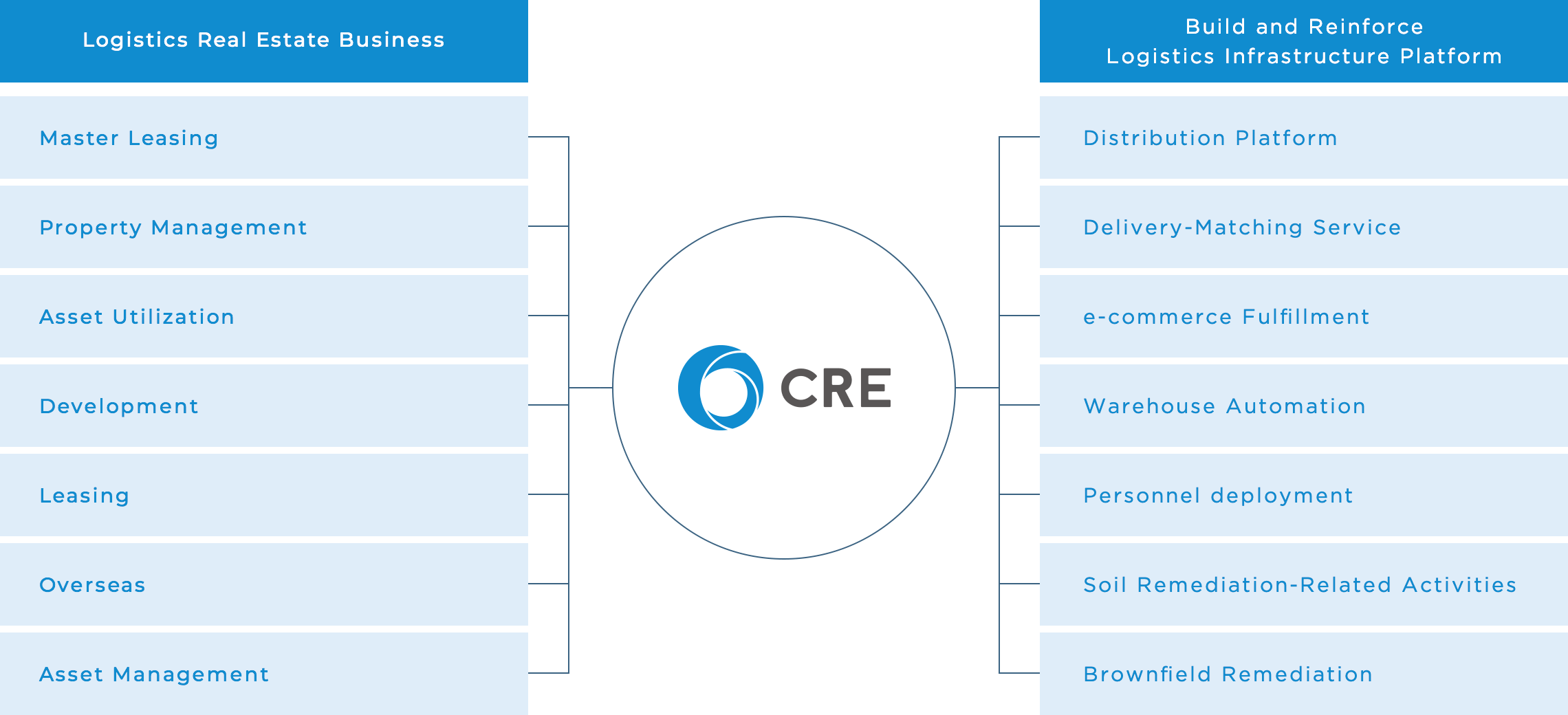 CRE's Businesses
Master Leasing

Lease out business-use properties and improve asset value of land and buildings for clients.

We lease business-use properties, such as logistics facilities (warehouses) and commercial facilities, from property owners and provide lease guarantee and administration services. We do our utmost to ensure stable operation of these properties and improve asset value by applying an extensive record of results and the perfect support structure.

Property Management

Pinpoint features of each property and support the business side of real estate operation on behalf of our clients.

The CRE Group is involved in property management focusing on logistics facilities (warehouses) and commercial facilities. As a specialist in business-use real estate, we offer solutions matched to the features of each building and help maximize asset value.

Asset Utilization

Safeguard assets and generate revenue with optimized land utilization plans.

We look at various requirements, including effective use of idle land, inheritance issues and measures to reduce tax burden, to identify the purpose behind land utilization and make effective use of idle land. We closely evaluate and analyze such factors as location, future earnings potential and business period, not only to safeguard assets but also to create utilization plans that generate stable revenues over the long term.

Development

Focus on logistics real estate underpins highly functional and versatile facility development.

We draw on an extensive information network acquired through leasing and marketing operations and solid expertise backed by a track record of countless development projects and property management contracts to provide highly functional and versatile logistics facility development.

Leasing

Fueling industry activity with higher occupancy rates
Doing our utmost to improve client satisfaction

CRE's leasing business draws on an an industry-leading information network and supports high occupancy rates. After tenants have moved into a facility, our real estate management and development divisions maintain close ties to ensure the highest possible level of client satisfaction.

Overseas

Overseas business development in Southeast Asia, especially Thailand and Vietnam.

We draw on solid expertise accumulated in logistics facility development, property management and asset utilization operations in Japan to provide highly functional logistics facility development, property management and information matched to market needs in Southeast Asia which is characterized by remarkable economic development.
Group Company
Businesses
Asset Management

Offer investment opportunities into real estate funds, such as listed REITs and privately placed funds, and support for real estate finance and securitization.

Asset management is handled through two companies-asset manager CRE Logistics listed REIT, Inc., and a company offering wide-ranging support from consulting through arrangements and asset management administration.

Distribution Platform

Logistics platform and e-commerce logistics solutions strengthen warehouse network.

Happylogi was built from scratch after delving deep into the question "What's do e-commerce operators really need?" The platform goes beyond order management and customer management and covers all aspects of logistics for e-commerce operators. The platform continues to evolve as a core CRE service.

Soil Remediation-Related Activities

Create new value by refreshing contaminated soil.

We help clients deal with soil contamination risk, from surveys of contaminated sites and cleanup strategies to exit strategies, such as sale and new land utilization options.

Brownfield Remediation

Purchase contaminated land according to risk

We implement suitable soil cleanup measures to reduce soil contamination risk and then resell the property.